About Us

LACM is a global quantitative equity manager, taking a differentiated approach to dynamic equity management.
LACM was founded in 2002 by principals seeking to build an independent, client-centric firm focused on Los Angeles Capital's Dynamic Alpha Stock Selection Model®, the proprietary technology used by the Firm in managing quantitative equity portfolios.
Since its founding, LACM has enhanced its Model, portfolio construction, and risk management techniques, and currently applies its process to over 20 equity strategies, developing equity forecasts across both developed and emerging markets. The Firm manages $31.7 billion in assets on behalf of institutional investors in the US, Canada, the UK, Continental Europe, the Middle East, and Australia.
Los Angeles Capital is 100% employee-owned via its parent companies, encouraging a close alignment of interests between the Firm, its employees, and clients. The Firm's wholly owned subsidiary, LACM Global Ltd., is located in London.
As of September 30, 2023
History
LACM's Two Decade Journey
2022 Los Angeles Capital marks its 20 year anniversary.
2021 Long Term Growth, Relative Value, and Climate Opportunities factors incorporated into DA framework as part of the stock selection process.
2021 DDR factor enhanced by integrating a new financial risk penalty.
2021 Success factor enhanced with the addition of an industry-specific model utilizing machine learning techniques.
2021 Joined IIGCC and participated in working groups aligned with Paris Investing Initiative.
2020 Launched proprietary Analyst Insight Model factor utilizing approximately 70 components to measure analyst sentiment.
2020 Launched US Microcap Equity Strategy.
2020 Became a CDP Signatory.
2020 Signed on as a SASB Alliance Member.
2020 Joined the Climate Action 100+ Initiative.
2019 Publicly declared support for the Task Force on Climate-Related Financial Disclosures (TCFD).
2019 Launched World Small Cap Strategy.
2016 LACM Global, Ltd. registered with the FCA.
2016 Passed $20 billion in AUM.
2015 Formed LACM Global, Ltd, a wholly-owned U.K. subsidiary.
2015 Became a Signatory of the PRI.
2014 Launched first ACWI ex-U.S. portfolio.
2013 Introduced first 130/30 Active Extension portfolios for U.S. Large Cap Value and EAFE.
2013 Launched a Collective Investment Trust incorporating our U.S. Large Cap Growth strategy to service the 401K market.
2012 Launched first EAFE portfolios.
2012 Firm passed $10 billion in AUM.
2011 Initiated the Los Angeles Capital Management Committee to oversee day to day Firm activity.
2011 Formed Los Angeles Capital Global Funds PLC in Ireland, an affiliate of Los Angeles Capital to manage money for non-U.S. clients in UCITS registered investment funds.
2011 Established dedicated Portfolio Risk Management Department within the Research group.
2011 Global Managed Volatility product funded.
2009 Investment universe expanded to Emerging Markets securities.
2007 Passed $5 billion in Firm assets under management.
2007 Investment universe expanded to Pacific Basin securities through the completion of Japan and Asia Ex-Japan models.
2006 Investment universe expanded to European securities through the completion of research on the European Model and associated factors. First MSCI European mandate funded.
2006 130/30 portfolio funded to capture higher information ratios in large cap portfolios.
2002 Founding principals build an independent, client-centric firm, focused on the Dynamic Alpha Stock Selection Model® and the proprietary technology used in managing quantitative active equity portfolios.
A culture of learning, teamwork, innovation, and dedication to doing what's right for clients.
LACM prides itself on its people, building and developing a team of driven, energetic, and passionate individuals. The Firm seeks to promote a diverse corporate culture in which different backgrounds and perspectives are not only represented but celebrated. Employees are empowered to leverage their individual talents and share their diverse viewpoints.
The Firm's diversity efforts are supported by an employee-led Diversity, Equity, & Inclusion Working Group (DEIWG), who seek to foster a more inclusive working environment, ensure all voices are heard at the Firm, and attract, develop, and retain the best talent. This commitment extends to ensuring that dimensions of diversity are embedded in various aspects of work life, including hiring, operations, community outreach initiatives, philanthropic causes, and investments.
LACM is also actively committed to raising firmwide social consciousness. Its employee-led Corporate Social Responsibility (CSR) group seeks to aid in all aspects of social responsibility, and strives to create and sustain a company culture that values awareness, humility, and accountability to ensure an ethical fulfillment of its civic duty. This commitment extends to proactively encouraging and empowering dimensions of diversity so they are embedded into LACM's way of working from hiring to operations, community outreach initiatives, philanthropic causes, and investments.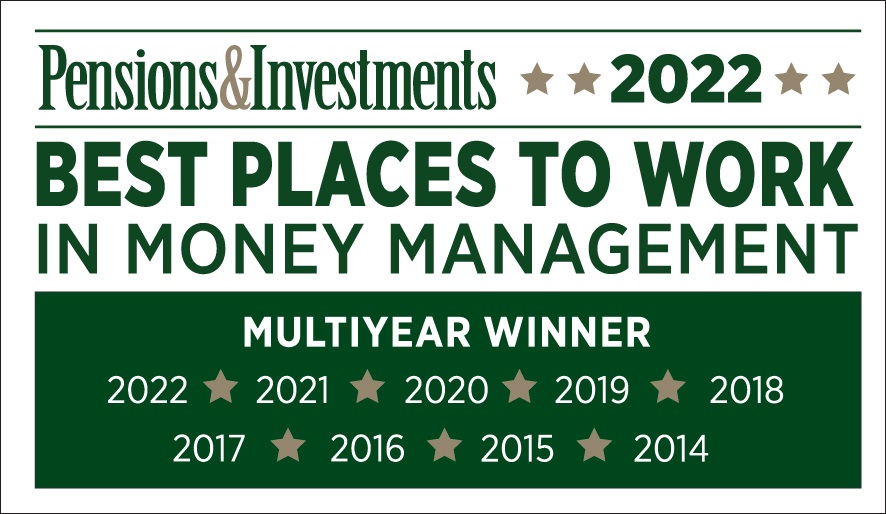 P&I Best Places to Work in Money Management
For the ninth year in a row, LACM is proud to have been voted one of the Best Places to Work in Money Management. The Firm's profile is available in the December 2022 edition of Pensions & Investments.
For the 2022 "Best Places to Work in Money Management" list, Pensions & Investments partnered with Best Companies Group, a research firm specializing in identifying great places to work, to conduct a two-part survey process for employers and their employees. For details on eligibility criteria and the survey's methodology, click here. A license fee was paid to Crain Communications to use the logo.
LACM's 2022 P&I Profile